It is quite refreshing to enjoy your time outdoors. The good thing about spending time outdoors is that you forget about the pressure that comes with work. Other than the dining table, a porch swing can help you bond with your friends and family members. However, with many porch swings available on the market, you need to know how to choose the right one. These are some of the things you ought to consider.
Select the Best Manufacturer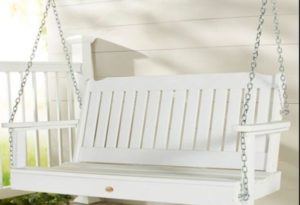 Nowadays, there are several manufacturers that have several years of reputation. Ensure you choose a manufacturer that uses high-quality materials and excellent craftsmanship. Also, you need to consider the brand. Remember that some manufacturers have been around for several years. Some brands are even household names. That is because, over the years, they have built a great reputation by offering superior quality porch swings.
Select the Right Material
Ensure you choose a porch swing that can last many years. Thus, it ought to be made of quality materials. Since it is used outdoors, it should be weather-resistant. Remember that the material to choose should suit your style. Wood is quite popular for making porch swings. You can find some made from oak or pipe. Other materials used include recycled plastic, resin wicker, and wrought iron.
Pick a Style
It is advisable to choose a style that suits your personality. Other than being comfortable, the porch swing ought to suit your personal taste and style. Ensure you select a straight-lined swing. Also, you need to select the right color to go with its surroundings. You can then add cushion to improve the comfort level.
Test the Durability
The porch swing should be comfortable and durable. Therefore, you should select a strong material and supporting elements, such as chains and beams. The materials of these elements ought to be insect resistant and weather resistant. In fact, you can pay more for durable materials such as plywood or teak.
Weigh the Cost
Ensure you find a porch swing you can afford. Although it is necessary to find a long-lasting porch swing, an expensive one does not always mean it is good and can last longer. If you have an unlimited budget, you can get a porch swing made from cedar as it can last a lifetime.
Consider the Environmental Impact
This is dependent on the type of material you choose. Ensure you select a sustainable material that is obtained from sustainable forests. If you want to choose plastic, ensure it is made of recycled plastic.…